In May 2023, uPowerTek announces that APD series 25-200W D4i driver has been certified with ENEC and CB.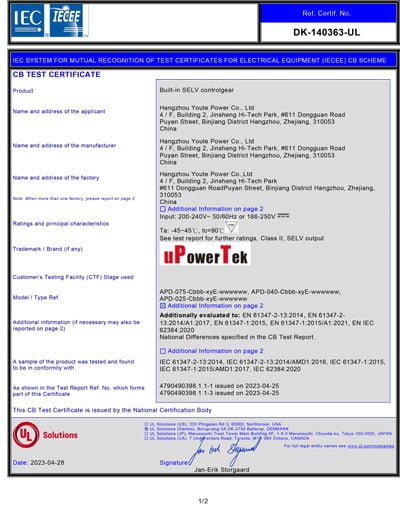 APD series LED drivers meet the latest D4i standard. NFC programming function is also available on this new series, and users could program the output current plus other functions by NFC programmer or smartphone with NFC communication. It has compact casing and IP20 waterproof level, which can be built inside the lighting fixture.
New generation APD series NFC programmable D4i LED driver has wide input voltage 176-305Vac input, 10kV surge protection guarantee reliability for outdoor application. Product lifetime reaches 100k hours benefits from Japanese NCC and RUBYCON capacitors. 24V 3W auxiliary power is also available on this series, it can provide power for intelligent controllers or sensors, simplify the system design and improves the reliability.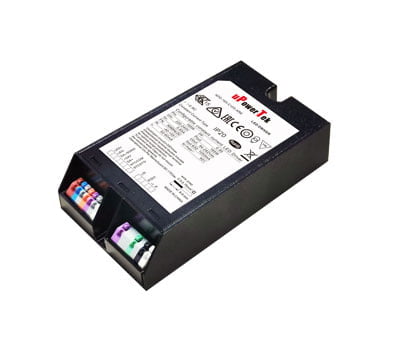 Product Features:
Supply Voltage: 176-264Vac
Great Surge Immunity 10kV
DPACTM Tech (D4i Plus 0-10V Combo)
D4i/DALI2.0 Comply with IEC62386-101,102,150,207,250,251,252,253
Integrated 16Vdc Bus Power Supply
±1% Energy Report Accuracy
Dim Off with 0.5W Standby Power
24V 3W (10W Transient Peak) Auxiliary Power
100,000Hour Life @ Tc=75℃ & 7 Year Warranty @ Tc<=75℃
+/-2% Output Current Accuracy
AirsetTM NFC Programmability
Class II and Class I Combo
Safety according to EN 61347-1, 61347-2-13, 62384