Feb 11th, 2022, Hangzhou, "A power factor correction converter" developed by uPowerTek won the national invention patent ZL202110317804.4.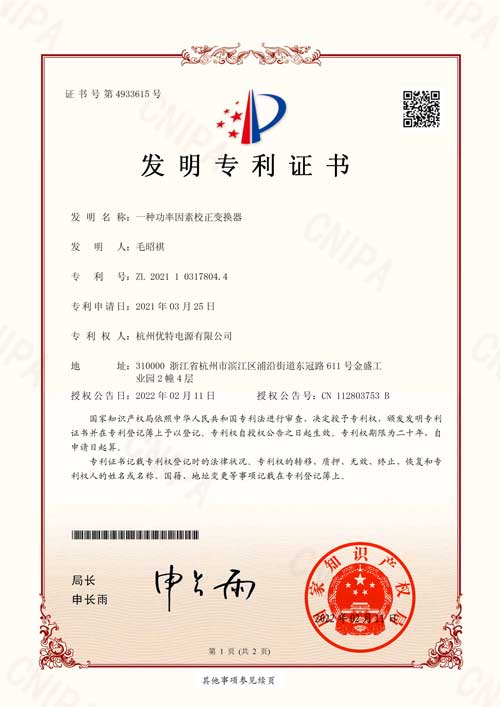 This patent is a good practice of our company in advocating technological innovation and has high practical value. Since the company's establishment, the company has focused on increasing investment in scientific research. uPowerTek has obtained dozens of invention patents, utility model patents and software copyrights authorized by the State Intellectual Property Office. This patent is the fifth invention patent since 2022, which is of great significance for our future development. This invention patent enhances the company's product technology content and makes the company more competitive, provides strong scientific and technological support for the company's future growth, and once again demonstrates our company's strength as a leading brand of LED drivers!
Technological innovation is the driving force for enterprise development. uPowerTek is committed to providing sales services and technical support to customers around the world through the development and production of high-quality intelligent LED terminal solutions and high-power LED drivers. The company always takes product quality and reliability as its first choice, and continues to introduce new products such as 800-1500W grow light LED driver, high power density LED driver, NFC programmable LED driver, DALI2 power supply and 0.1% stroboscopic-free LED driver to win the market and customers' favor.
Since the company was established in 2016, the company has built a platform, and successively issued many incentive policies. These policies stimulate the enthusiasm of the employees, encourage them to continue to develop in technological innovation. Through continuous R&D and innovation, in just a few years, uPowerTek has become a national high-tech enterprise. It has completed more than 20 invention patents, software copyrights and intellectual property accumulation.
Innovative achievements can enhance the company's core competitiveness and play an essential role in sustainable development and brand building. The patent marks another solid step for the company on the road to innovation and growth.
In the future, uPowerTek will continue to increase investment on innovations and further strengthen intellectual property management. It will keep providing strong support for the company's sustained, healthy and rapid development and strive to become a leading brand in the industry.