August 3, 2023, uPowerTek obtained the intellectual property management system certification, which means the company's intellectual property protection and management has taken a solid step.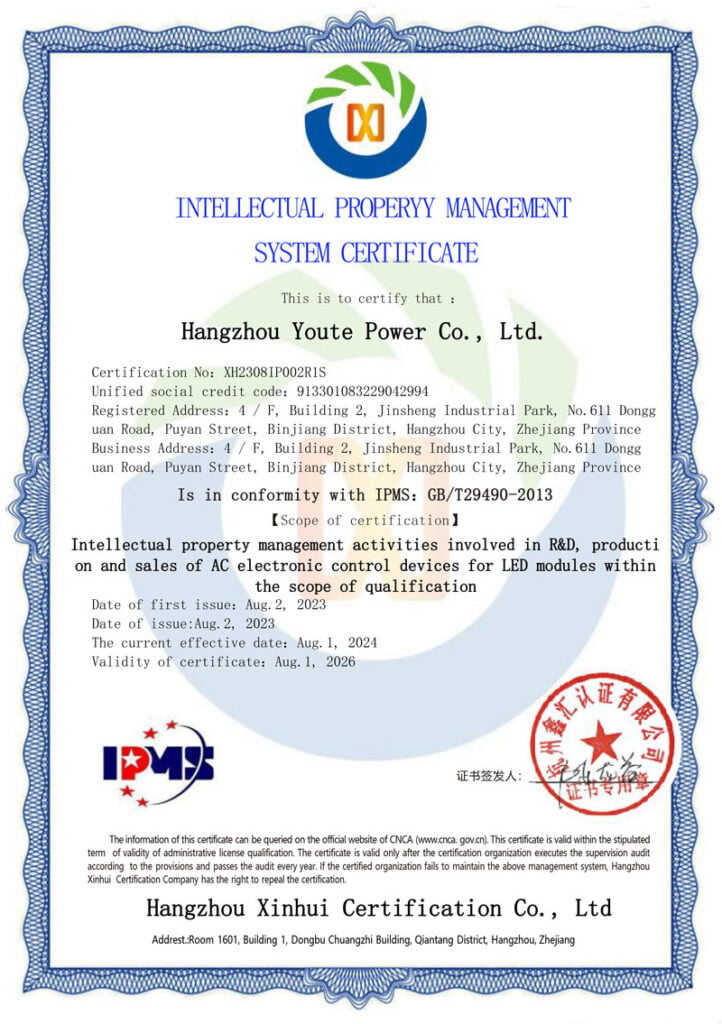 In recent years, China has made great progress in promoting the construction of an strong country in intellectual property, constantly improving the application level of intellectual property strategy, and providing solid support for the country's innovative development. In such a context, uPowerTek has successfully obtained the "Intellectual Property Management System Certification Certificate" for the first time after the strict review of the national intellectual property management professional organization. This certification is not only a high degree of recognition for the company in the field of intellectual property management, but also an important guarantee for the company to further standardize intellectual property management and enhance core competitiveness.

As an enterprise focusing on the development, production and sales of high power LED drivers, uPowerTek has been taking the protection and management of intellectual property rights seriously, and is committed to promoting the in-depth development of technological innovation and constantly improving its own independent innovation ability. As of August 3, 2023, the company has applied for 85 patents, including 48 inventions, 23 utility models and 14 appearance patents. At present, 47 patents are authorized, including 24 inventions, 21 utility models, and 2 appearance patents. In the future, we will continue to strengthen the management of intellectual property rights and the concept of intellectual property rights throughout the whole process of enterprise development, accelerate technological innovation and achievement transformation, and continue to make greater contributions to the innovative development of LED drivers.
"Enterprise Intellectual Property Management Standards" (GB/T 29490-2013) is a national standard led by the State Intellectual Property Office, jointly drafted by the State Intellectual Property Office and the China Institute of Standardization, approved by the General Administration of Quality Supervision, Inspection and Quarantine and the Standardization Administration, and implemented on March 1, 2013. It aims to standardize the intellectual property management of enterprises, form an intellectual property management system that runs through all aspects of production and operation, realize the acquisition, maintenance, application and protection of intellectual property, and give full play to the important role of intellectual property management system in the development of enterprises.