Today uPowerTek released new generation BLD and TLD series 40W to 800W NFC programmable DALI-2 LED driver. The new products meet the latest DALI-2 standard whose compatibility was improved a lot when compared with DALI-1 drivers. NFC programming function is also available on this new series, and users could program the output current plus other functions by NFC programmer or smartphone with NFC communication.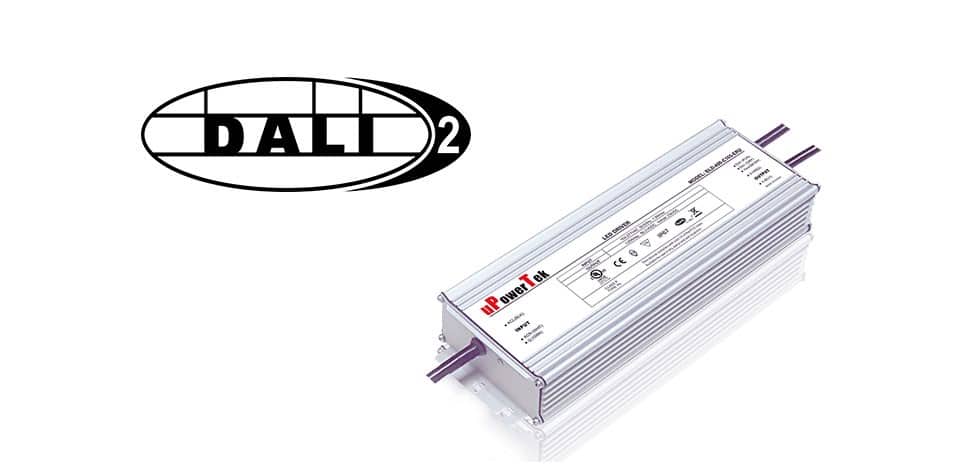 The DALI-2 standard, the latest version of the IEC 62386 standard for DALI technology, is administered by the Digital Illumination Interface Alliance (DiiA), which certifies the products that carry the DALI-2 logo and compliant with the standard's protocols.
While DALI-1 revolutionized options for regulating artificial lighting, DALI-2 is helping fill the gaps in the original standard. It allows more interoperability with other wireless protocols such as Bluetooth, Wi-Fi and Zigbee, it also adds a host of new functions previously unavailable. Additional benefits include more energy-efficient lighting, easier customization and reduced installation costs.
NFC (Near Field Communication) is now frequently involved in everybody's digital life, such as transportation, security, payment, cellphone data exchange and tags. It is a kind of short-range wireless communication technology firstly developed by Sony and NXP. Then TI and ST made more choices to make NFC more widely adopted and cheaper in consumer electronics. Now it is also applied to outdoor programming LED drivers, the user experience is friendly because it doesn't require wiring when programming.
The metal casing is applied to this new series, IP67 waterproof level makes sure reliability in outdoor application. As we all know, the metal casing can block the transmission of NFC signal. uPowerTek overcame technical barrier, applied the NFC technology on the IP67 waterproof LED drivers, and received many patents. Users could adjust the output current, setting CLO and NTC thermal feedback by NFC smartphone or NFC programmer.
New generation NFC programmable DALI-2 LED driver has wide input voltage 90-305Vac or 180-528Vac, IP67 waterproof level and 10kV surge protection guarantee reliability for outdoor application. Product lifetime reaches 100k hours benefits from Japanese NCC and RUBYCON capacitors. 12V 300mA auxiliary power is also available on this series, it can provide power for intelligent controllers or sensors, simplify the system design and improves the reliability.
Features
Supply Voltage: 90-305Vac or 127-420Vdc, 380Vac for 2 hours
Great Surge Immunity 10kV
-55℃Cold Ambient Startup (Optional)
100,000Hour Life @ Tc=75℃
7 Year Warranty @ Tc<=75℃
AirsetTM NFC Programmability
+/-2% Output Current Accuracy (Programmable Model)
DALI-2 Dimmable
Dim Off with 0.5W Standby Power (Optional)
12V 300mA Auxiliary Power to Power
NTC Luminaire Temperature Feedback (Optional)
Class II Model Available
UL Class P, Class 2,
ENEC/CB/CCC SELV Output, safety according to EN 61347-1, 61347-2-3, 61347-2-13, 62384
Please visit www.uPowerTek.com for more info, or contact us through sales@uPowerTek.com