February 12, 2022, uPowerTek announces that the BLD series 400W-800W LED driver has been certified with ENEC and CB. This new series is representing the top-level design in this industry and will be applied in grow lighting and various industrial lighting high power luminaires.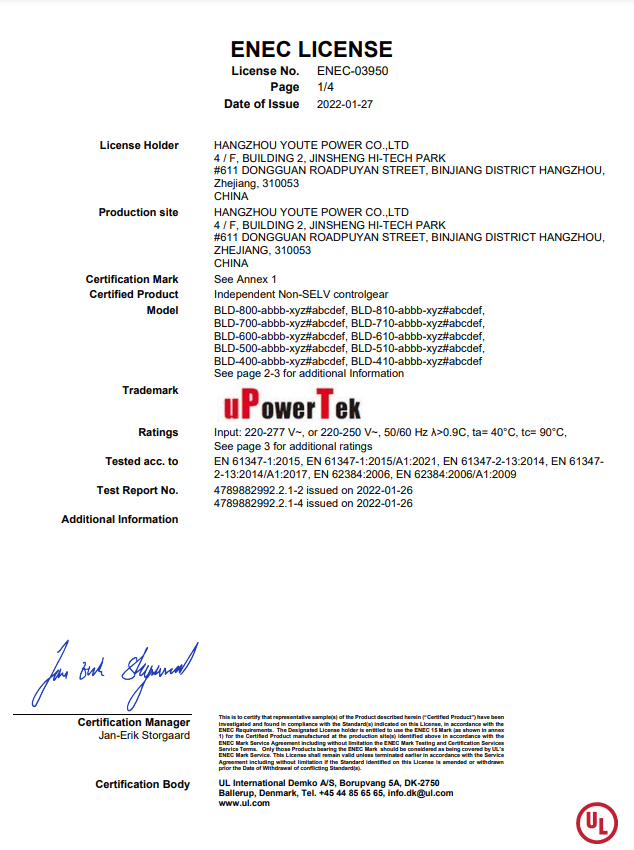 BLD series are designed with patented high efficiency power circuitry and uPowerTek own unique thermal spreading architecture. And it has a wide input voltage range of 108-305Vac, ensuring it can be adapted to power grids all over the world. With its compact size, low inrush current and high efficiency design, it supports 0-10V, DALI-2 and DMX512 dimming, and NFC programming by which users could program the output current without connecting wires or powering on the driver. The divers are widely used in stadium lighting, industrial lighting, horticultural lighting and pole lighting.
ENEC is a certification program of CENELEC (organization for electrical standardization of Europe), which is a common European standard for certain products (such as lighting equipment, components, and office & data equipment) that meet European standards.
The drivers have below main features:
Supply Voltage: 108-305Vac
Great Surge Immunity 10kV
High Efficiency
Low Inrush Current
100,000Hour Life @ Tc=75℃
7 Year Warranty @ Tc<=75℃
NFC Programmability and Isolated Dimming
+/-2% Output Current Accuracy (Programmable Model)
0-10V/PWM/Time/DALI /DMX (Optional) Dimmable
Dim Off with 0.5W Standby Power
12V 300mA Auxiliary Power to Power Controllers and Fans (Optional)
Safety according to EN 61347-1, 61347-2-3,61347-2-13, 623847
If you would like to know more about our company, please feel free to contact us.