From June 9 to 12, 2019, the 24th Guangzhou International Lighting Exhibition (Guangya Exhibition) was held in the Guangzhou Exhibition hall of China import and export fair. As a grand event in the lighting industry, the exhibition attracted lighting manufacturers from all over the world once again. This year, the organizer take "THINKLIGHT: Envisage The Next Move" as the theme of the exhibition, conveying the core concept of innovation. At the exhibition, the exhibitors showed all kinds of lighting applications, and new products and technologies emerged one after another. The exhibition was very exciting.
At this exhibition, uPowerTek which is famous for its high-quality LED driver, also participated in the exhibition with many new products and technologies. As a fast-growing new-generation lighting company, uPowerTek has grown in overseas markets with high quality drive power products and services in recent years. Now uPowerTek is also beginning to develop its domestic market. What are the considerations behind it? Therefore, at this exhibition, OFweek Semiconductor Lighting Network reporter had the opportunity to interview George Mao, the founder and general manager of uPowerTek, and to interview what is his view on the current LED driver market, and what new products and technologies of uPowerTek have been exhibited at this exhibition?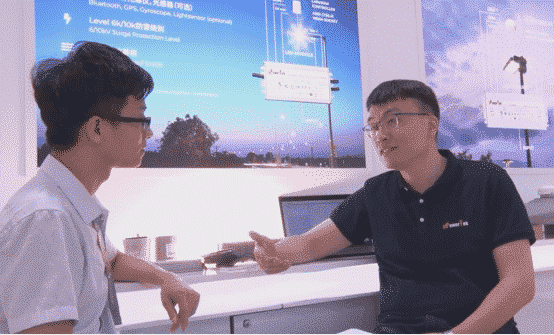 Tightly Lock All Kinds of Products to Occupy the Four Target Market
George Mao introduced to the OFweek semiconductor lighting network that the target market currently targeted by uPowerTek can be roughly divided into four categories. It respectively are the intelligent lighting market, the medium and high power lighting market, high-performance dimming applications, and high-quality requirements customers or markets. At this Exhibition, uPowerTek has carried out related product display around the above four major target markets.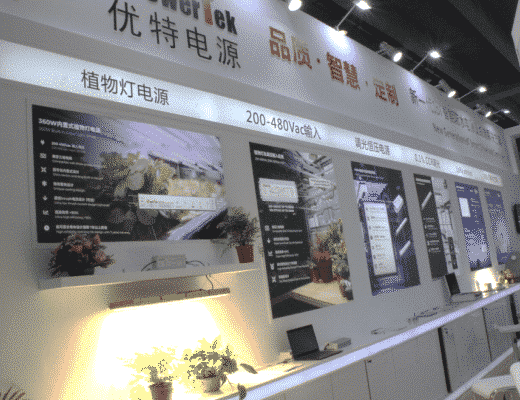 In the field of intelligent lighting, uPowerTek has launched a complete solution for LORA, NB-IOT, Bluetooth, PLC and DALI, covering all mainstream protocols for indoor and outdoor, wired and wireless. In addition to the self-developed DALI2 solution, the other solutions are jointly launched with partners. Among them, uPowerTek is mainly responsible for hardware terminals, and the software part is mainly provided by partners such as Ambiot of Russia, BGC and Casambi of the United Kingdom, domestic Tuya intelligence, and Timiot.
George Mao said that uPowerTek has made a very large investment in the completely independent research and development of DALI products, and now has its own PROBIT DALI Tester. At present, only a few large factories in China have this equipment. In addition, he also revealed that the DALI2 series products are also in the process of preparation for the launch.
In terms of high-power products, uPowerTek's maximum power products have reached 600W. Compared with similar products on the market, uPowerTek's high-power products are lighter in weight and smaller in size by about 20%, which can effectively reduce the weight of the entire luminaire product and can also saving production costs and reducing product prices. For his own high-power products, George Mao proudly said that "uPowerTek has made 600W into the 480W casing of other manufacturers, and made 480W into the 320W casing of other manufacturers, which is probably the most powerful product in the industry." George Mao said that at present, the high-power products of uPowerTek are relatively large in the market of grow lights and high pole lamps.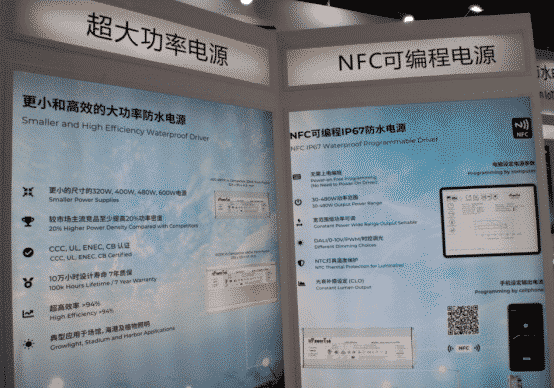 In terms of dimming products, uPowerTek's dimming products not only support the mainstream 0-10V, PWM, and Time in the market, but also support the market segments of DALI, RS485, and DMX512. Among some products, uPowerTek has built-in PLC and Bluetooth integrated drivers, which cost less than discrete solutions. uPowerTek's dimming products not only have constant current traditional dimming products, but also constant voltage dimming products. It mainly used for dimming some indoor lights, the minimum can be 1% brightness. At this exhibition, uPowerTek focused on a product that supports 0.1% CCR mode dimming. It is also the only one driver in the industry that supports DALI, 0-10V dimming, with NFC programming and 12V auxiliary power. George Mao said that the consistency of this product is very good. Under such low brightness, it still has strong precision, which is a very difficult design.
In addition, uPowerTek also showed some extreme high temperature and cold products. It includes a waterproof driver of 50 to 300W, which can support an ambient temperature of 85 °C, and the whole series of waterproof driver which can work in the extremely cold environment of minus 55°C.  George Mao said that only the uPowerTek driver in the industry can achieve such a low temperature for the full range of products from 30 to 500W.
uPowerTek Focuses More on Value Markets And Offers Quality Products And Services
Looking at the world, China is undoubtedly the largest lighting market nowadays, and it is also the most inclusive market for all kinds of products. George Mao believes that in the fierce market competition, some enterprises rely on price, some enterprises rely on product value, and some companies do well in two aspects, which can often stand out. After experiencing a brutal market baptism, there will eventually be two types of businesses left. One is the industry oligarchy with huge volume, the other is the enterprise that really wins by product quality and professional service. Although their products are more expensive than ordinary products, they save customers costs in terms of product competitiveness, time to market and so on, so there must be their own living space.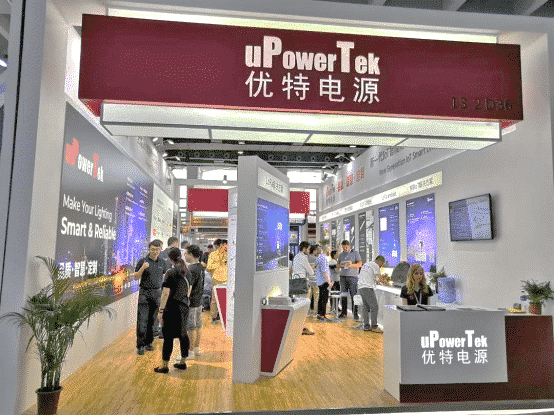 George Mao said that the goal of uPowerTek is to become the second type of enterprise mentioned above, and value the competitive market. In this market, uPowerTek provides customers with different quality products and through differentiated products and services, to help customers bring better dimming experience for their users. For example, more stable networking, longer Warranty time, thinner products, and even some customized content to have  a firm foothold in the market.
In recent years, uPowerTek began to develop in the domestic market, George Mao said, at present, uPowerTek has achieved good results in the high-end power market in Europe and the United States. The sales channels are relatively stable, so there is a certain amount of resources and energy to develop the domestic market. China is the world's largest lighting market, uPowerTek located in the Yangtze river delta of Hangzhou, can be more convenient to provide services for the majority of customers. Although the competition in the domestic general lighting market is very fierce, uPowerTek has enough confidence to gain a foothold in some market segments with its excellent product quality and performance.
Create greater value with partners
In order to ensure the advantages in quality, uPowerTek has made a high investment in research and development since its inception. George Mao told OFweek Semiconductor Lighting Network reporter that the early investment funds have been invested in research and development, and the annual R&D investment is basically more than 5 million. In addition, the annual certification fees in UL, CCC, BIS, PSE and ENEC are more than 1 million.
George Mao is optimistic about the overall market environment. Undoubtedly, the scale of the intelligent lighting market is still growing at a high speed. According to statistics from relevant institutions, the global smart lighting market will reach 10 billion US dollars by 2020. George Mao said that uPowerTek has a reliable team and reliable partners. These are the great advantages of the continuous development.
As a new generation company established in 2016, uPowerTek has generated strong market vitality since its establishment. Its core members are from leading companies in the industry, including Philips, Delta, Inventronics, etc. They have a clear ambition to LED driver and have been innovating for years. In addition, the core shareholders of uPowerTek are well-known lighting companies at home and abroad, and also help in all aspects. At present, uPowerTek is working with more than ten partners to provide solutions to serve hundreds of lighting companies and engineering project customers at home and abroad.