June 18, 2020, uPowerTek announces that BSR series 20-80W LED driver has been certified with ENEC and CB.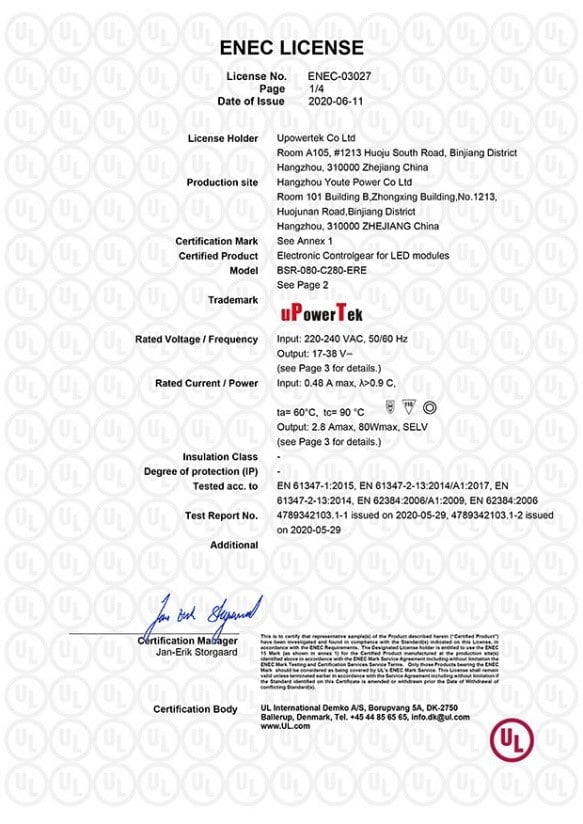 uPowerTek BSR series covers 20-80w output range. And this is the first driver which integrates the features of NFC programming, DALI/PWM/0-10V dimming and 12V auxiliary power in this industry. Also it is the only one which is able to be dimmed to 0.1% level in CCR (constant current reduction) mode in the industry. This series applies to indoor commercial lighting, such as office, hotel, restaurant and shopping mall lighting, especially where the light quality is the ctritical consideration of the whole light environment design.
ENEC is a certification program of CENELEC (organization for electrical standardization of Europe), which is a common European standard for certain products (such as lighting equipment, components, and office & data equipment) that meet European standards.
These are great features of BSR series products:
Supply Voltage: 90-305Vac or 127-250Vdc
100,000Hour Life @ Tc=75C
7 Year Warranty
AirsetTM NFC Programmability
CCR Mode 0.1% Dimming Level
0-10V/PWM/Time/DALI Dimmable
Dim Off with 0.5W Standby Power
12V 300mA Auxiliary Power
Low Inrush Current
Safety according to EN 61347-1, 61347-2-3, 61347-2-13, 62384 If you would like to know more about our company, please feel free to contact us at sales@ uPowerTek.com