DALI-2 gets more and more popular in the LED lighting technology, it's widely used in office lighting, building lighting and hotel lighting. However, most people are not quite clear about DALI 2, in this article, we are going to find out what is DALI 2 and what is the difference between DALI and DALI 2.
What is DALI 2?
DALI-2 is the latest version of DALI. It improves interoperability between products from different manufacturers through mandatory certification and provides more features, such as energy data, but most importantly, it includes the addition of control devices not included in the original DALI. If all the devices in a project meet DALI 2.0 standard, the whole system will be more reliable and easy to control, which can help to save installation and debug costs.
Why you Must Know the Difference between DALI and DALI-2
DALI-2 comes with new and strict interoperability guidelines. As we shall see from below, these strict guidelines result from the new parts and features. They also ensure smooth compatibility between DALI components.
Note this you can actually lose your official DALI seal of approval if you fail to recognize and comply with DALI 2 protocols. Recognizing it starts by you identifying the difference between the earlier version and the newer versions.
DALI's seal of approval influences your brand's reputation. Lacking this seal will badly hurt your brand reputation that will transcend to buyers dissuasion.
What are the Changes from DALI to DALI-2
DALI-2 comes with…
Mandatory Certification
DALI power supply and control systems can now be certified. However, they should go through a series of test sequences before they can have the DALI-2 logo. These test sequences are under tighter control as compared to DALI -1 procedure.
New Features
"Prolonged fade-time" is one of the features and commands of DALI -2. It's a feature that allows for fades from 0.1 seconds up to 16 minutes. The incorporation in DALI-2 of control devices also allows the DALI-2 system to support a total of 128 device addresses ~ 64 control gears and 64 control devices.
Fixed issues and Gaps Related to "VI"
DALI-2 embraces more detailed specifications and a dedicated system description. Therefore, your DALI-2 system is less prone to malfunctions and misinterpretations because its electrical tolerances have more precise specifications. Tighter test procedures allow for error corrections.
Standardized Controls
DALI-2 added part 103 of IEC62386 in a bid to extend the control devices. This part involves the definition of the single master and multi-master controls and an application controller. Furthermore, the switch and the sensor controls are standardized.
What is the Fuss about Testing and Certification
IEC (International Electrical Commission) developed the core parts of the DALI-2 application system in 2014. However, the process of testing and certifying these parts has since then lagged. Therefore, various companies decided to form Digital Illumination Interface Alliance (DiiA) to speed up these processes. But what do you know about these processes? Who oversees them? And what are they about anyway? Let us find out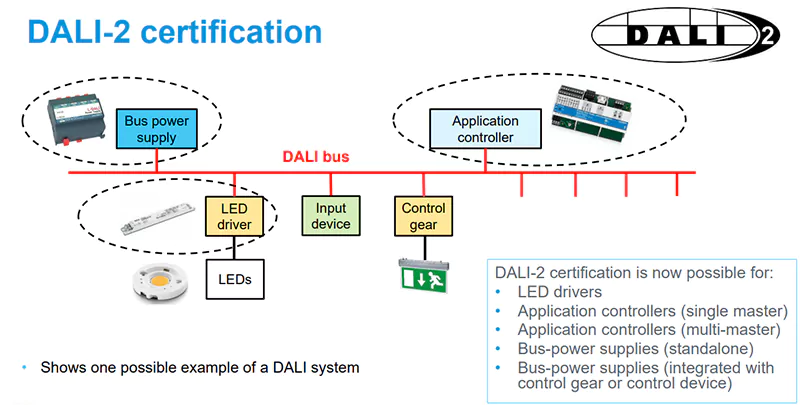 How do the Testing and Certification Compare between DALI-1 and DALI-2
For both systems, the manufactures must be DALI members. Here's how they differ:
| | DALI-1 Version | DALI-2 Version |
| --- | --- | --- |
| Verification | The test results from the compliance testing in the DALI-1 version are not independently verified. It means that various manufacturers can declare the interoperability of their DALI components without DiiA verifying the test results. | It requires a verification step where the test results are checked by independent IEC bodies to confirm that these results are correct. |
| Testing Methods | They are based on old and outdated versions of IEC 62386. These test procedures have many gaps that promoted interoperability issues among DALI-1 products. | They are based on officially designated test equipment a.k.a. Probit lab 2. DiiA organizes regular Plugfests where its member companies test the interoperability of their products with those from other manufactures. |
| Use of DALI LOGO | DALI-1 manufacturers are allowed to print DALI-1 LOGO on their product's label as long as their self-declared test conforms to DALI-1 protocols. | Only approved products that have passed the designated tests are allowed to use the LOGO of DALI 2 on their product label |
| Product Displays on DiiA website | The product model can be found on the official DiiA website without the test results. | The test results are uploaded to the official DiiA website for approval. Once they are approved, the products can obtain DALI-2 certification and they are displayed on the DiiA website. |
Changes in the Companies that Handle the Testing
Before the establishment of DiiA, DALI-AG managed the older DALI-1 version. This working party was established by ZVEI (a German Electrical and Electronic manufacturer's Association). However, in early 2017, there were industry requests for an independently verified DALI-2 certification program. Therefore, DiiA was born to meet such industry requests.
DALI-AG hence handed over DALI'S trademark to DiiA. These trademarks include DALI version-1, DALI-2 Logos, and DALI wordmark that is used in lighting applications.
What Promotes the Rigorous DALI-2 Testing?
Unlike DALI-1, the test sequences for DALI-2 are much more detailed and comprehensive. IEC came up with DALI-2 to deal with compatibility issues that were associated with DALI-1. It would achieve that by significantly improving multi-vendor interoperability using DALI-2 certification.
DALI-2 certification requires a product to undergo rigorous tests. DiiA will then check the results from these tests to ensure that they meet interoperability requirements. In addition, DALI-2 comes with new commands such as device recognition commands and added call last memory brightness that demands stringent test requirements.
DALI-1 test sequences used to take 1 day at most. DALI-2 now requires 2 days. What's more? These test sequences will be more rigorous and comprehensive when more parts are added to the system. Interoperability is the main goal here, and DiiA will do more to uphold that.
Commands and Features Exclusive to DALI-2
DALI-2 now comes with control devices i.e. application controllers and input devices such as sensors and even bus power supplies. These new features enhance compatibility between DALI-2 components through relevant specifications. These features entail:
| Feature | Attribute |
| --- | --- |
| Query Operating Mode | Gives you information on the operating mode |
| Reset Memory Bank (DTRO) | Allows you to restore your memory bank's default values |
| Identify Device | It can localize a device |
| Query Light Source Type | Gives you information on the light source it's connected to |
| Query Next Device Type | Information on the type of devices it can support plus its functions |
| Query Extended Fade Time | Information on the extended fade time |
| Query Control Gear Failure | Gives you a detailed information on errors within the system |
| Save Persistent Variables | It is a non-volatile memory that stores persistent variables |
| Set Extended Fade Time | Allows you to use the " Extended fade-time" command |
| Set Operating Mode | Allows you to adjust your operating mode as per your needs |
| Go To Last Active Level | Using the IAP (Indirect Arc Power Command) you can access you last active level |
In line with the above DALI-1 version only has output gears that lack these new commands.
Commands and Features that both DALI-1 and DALI-2 Share
Addresses, Groups, and Scenes
DALI-1 and DALI-2 systems share the same number of these except for the Groups for control devices and the Groups for instances of input devices. Here's how:
| | DALI | DALI-2 |
| --- | --- | --- |
| Control Gear groups | 16 | 16 |
| Control Devices groups | 16 | 32 |
| Groups For Instances of input devices | N/A | 32 |
| Addresses for Control Gear | 64 | 64 |
| Addresses for the control devices | N/A | 64 |
| Scenes for Control gear | 16 | 16 |
How do Device Addresses Compare for DALI -1 and DALI-2?
The new DALI-2 system can comfortably support a total of 128 device addresses even with the advent of the control devices. This number represents 64 control gears and 64 control devices. In contrast, DALI-1 can support 64 control gears since the control devices are new to DALI-2 version (DALI-1 is only control gears).
Electronic Control Devices
DALI
DALI-2
Central Controller Unit
Multi or single master system that cannot be certified
Comes with an application controller that has a standardization
Input commands
ED Command
DA24, 24-bit command
Input Devices such as sensors and switches
It has:
Light sensor (Class 3)
Motion sensor ( Class 4)
Manual Control Unit (Class 5)
It comes with:
Instance Type 4( It's the light sensor with added part 304 of IEC 62386)
Instance type 3( Motion sensor with added part 303 of IEC 62386)
Instance Type 1 ( Manual control unit with added part 301 of IEC 62386)
System Structures
The old DALI system has sensors and controllers that communicate their commands directly with the control gear. However, the new DALI-2 comes with a new application controller that processes these commands before sending them to the drivers.
Why do we need this application controller? The application controller monitors the collision detection feature. It is a DALI-2 feature that allows the input devices to send the command again if it is lost by collision.
Compatibility between DALI and DALI-2
Are all DALI and DALI-2 Products Compatible
Here's what you should know regarding compatibility between DALI-1 and DALI-2 products:
Can you use DALI-2 control gear in the older system? You can successfully install your DALI-2 control gear in older DALI systems since DALI-2 was specifically designed for backward compatibility.
Can you Use DALI version 1 control gear with DALI-2 application controllers? The short answer is yes. Various DiiA tests have confirmed that upon installation, no problems were detected. However, you will miss out on the new DALI-2 features because the system will operate based on DALI-1 features.
·Can you Use bus power supplies that are not DALI-2 certified? It's uncertain that this combination will work. There are no apparent tests on bus power supplies that came before DALI-2. Such bus power supplies lack DALI- version 1 trademarks.
Can you Use DALI-2 controls and eD controls on the same DALI line? eD controls/DALI sensors are not specified. Therefore the application controller cannot recognize them. Hence under no circumstance shall you consider mixing them.
Is DALI-2 Backwards Compatible?
Absolutely! One of the main goals behind DALI-2 is to maintain compatibility with existing DALI systems. IEC designed it mainly for backward compatibility. Therefore, you can use DALI-2 control gear in older systems and still experience its new features. However using DALI-1 control gear with DALI-2 application controllers limits you to DALI-1 features – you will miss out on DALI-2 new commands and features.
Why DALI-2
With improved interoperability and standardization of control devices, DALI-2 is undoubtedly a mastermind in the lighting industry. Therefore switching to DALI-2 systems will increase your comfort and flexibility and also ease maintenance and installation. Here's how DALI-2 can re-define your lighting control:
Clearer Specification for bus power supplies and bus timing that would promote interoperability.
Bus-powered Units require less wiring and allow for easier installation
Extended Fade Time makes it possible for fades that last from 0.1 seconds to 16 minutes
Multiple Logical Units that results in more cost-effective DALI components
Query Light-source type allows you to maintain your DALI-2 system after installation.
uPowerTek now provides you with a wide range of DALI-2 dimmable LED drivers that will enhance your smooth transition from DALI-1 to DALI-2. Installing them in new construction can be more advantageous since you will require less wiring and installation.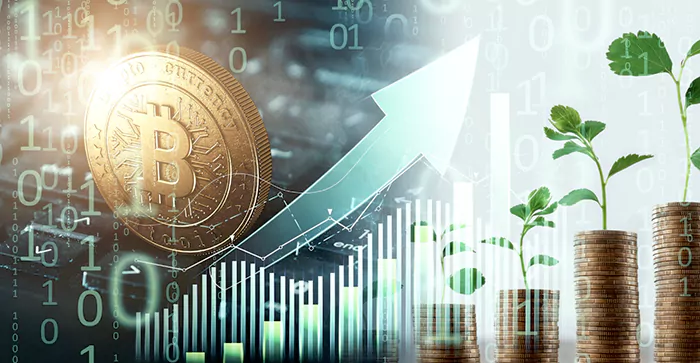 DALI Systems as an Ever-Growing Industry
Since its inception, DALI has undergone a variety of changes in response to industry requests. The industry continues to expand by adding more parts to existing DALI systems. Equipping yourself with the latest DALI-2 control gears is not only cheap but keeps you updated on the latest DALI features. Visit uPowerTek and get to experience what DALI-2 LED drivers have to offer you.