On December 16, 2021, after three years of reexamination, uPowerTek passed the "National High-tech Enterprise" assessment again. This is the second time that uPowerTek has won the title of National High-tech Enterprise.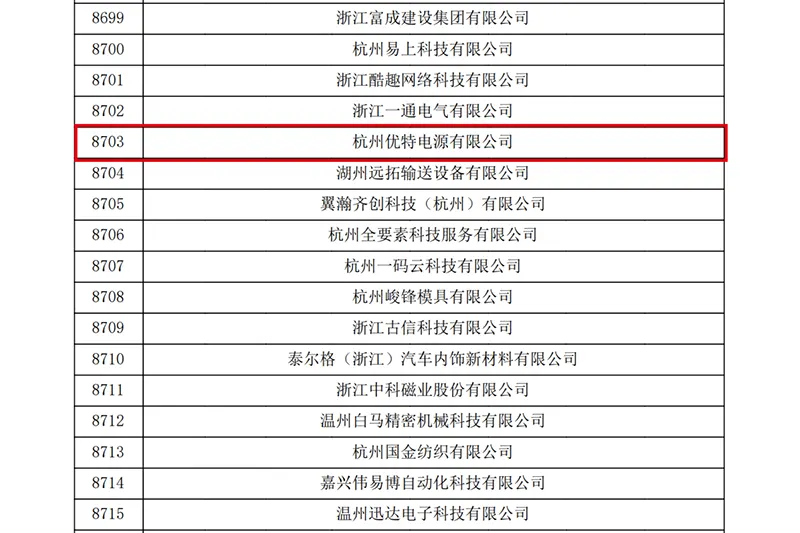 In China, high-tech enterprises generally refer to economic entities that are knowledge-intensive and technology-intensive. These enterprises are within the scope of the "High-tech Fields Supported by the State" promulgated by the state. Such enterprises continue to carry out research and development. The threshold of national high-tech enterprises is relatively high, and identification must go through strict evaluation and approval procedures. uPowerTek's ability to be approved again as a national-level high-tech enterprise affirms the company's own excellent innovation and R&D capabilities and muscular technical strength. It is also a strong proof of perseverance, continuous innovation, and improvement.
The review of national high-tech enterprises is quite strict and needs to go through layers of screening:
The company's intellectual property quality and quantity need to be inspected and scored accordingly.
It needs to meet five or more scientific and technological achievements in the past three years.
It must meet the requirements of technical experts based on the company's research and development.
Financial experts evaluate the company's net assets growth rate and sales revenue growth rate.
In summary, the identification of high-tech enterprises is a comprehensive evaluation and identification of the company's core independent intellectual property rights, the ability to transform scientific and technological achievements, the organization and management level of research and development, growth indicators, and talent structure.
Being successfully re-evaluated as a national high-tech enterprise is strong proof of our scientific research strength and innovation ability and a solid foundation for further enhancing the company's brand image, expanding product market share, and increasing capital value in the future.
High-tech enterprises are synonymous with high-quality enterprises. Our company has been awarded this accreditation twice in a row. This is an affirmation and commendation for uPowerTek. In the future, uPowerTek will continue to increase R&D investment, enhance the company's industry influence and market competitiveness, and strive to deliver world-class LED drivers to the market.