August, 2022, uPowerTek announces that BLD series 75W and 96W LED driver has been certified with D4i. This new series meets the latest D4i standard DALI part 101, 102, 150, 207, 250, 251, 252 and 253. Now the two models are listed on DiiA website product database.
D4i is the new DiiA specifications that build on DALI-2, enables DALI in the IoT era, and its power supply specifications focus mainly on intra-luminaire DALI.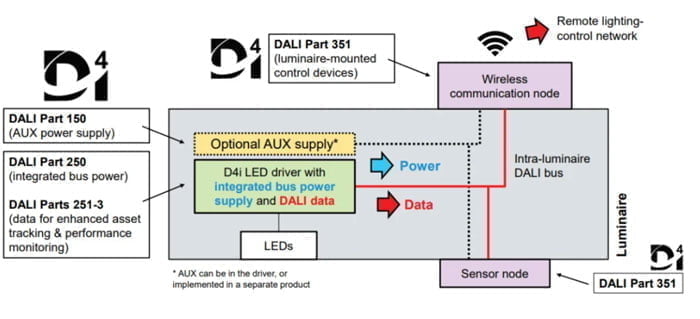 The metal casing is applied to these two products, IP67 waterproof level makes sure reliability in outdoor applications. As we all know, the metal casing can block the transmission of NFC signal. uPowerTek overcame technical barriers, applied the NFC technology on the IP67 waterproof LED drivers, and received many patents. Users could adjust the output current, setting CLO and NTC thermal feedback by NFC smartphone or NFC programmer.
New generation NFC programmable D4i LED driver has wide input voltage 90-305Vac, IP67 waterproof level and 10kV surge protection guarantee reliability for outdoor applications. Product lifetime reaches 100k hours by long life capacitors and great thermal design. 24V 3W auxiliary power is also available on this series, it can provide power for intelligent controllers or sensors, simplify the system design and improves reliability.
Product Features
D4i/DALI2.0 Comply with IEC62386-101,102,150,207,250,251,252,253
Integrated 16Vdc Bus Power Supply
±1% Energy Report Accuracy
Dim Off with 0.5W Standby Power
24V 3W (10W Transient Peak) Aux-Power
Great Surge Immunity 10kV
-60DegC Cold Ambient Startup (Optional)
100,000Hour Life & 7 Year Warranty
+/-2% Output Current Accuracy
Class II Model Available
UL Class P, Class 2
ENEC/CB/CCC SELV Output
Download the datasheet to know more about the products.
You can also contact our sales or distributors to get quotation.