On April 18, 2023, uPowerTek, a Hangzhou-based company, was once again awarded a national invention patent in the field of LED drivers. The invention is an auxiliary power supply system, with the patent number ZL202110171170.6. This honor highlights the company's continuous efforts in developing new technologies and products in the industry and actively carrying out various innovative work since its establishment. To date, uPowerTek has successfully applied for and obtained more than 20 authorized invention patents, utility model patents, and software copyrights from the National Intellectual Property Administration.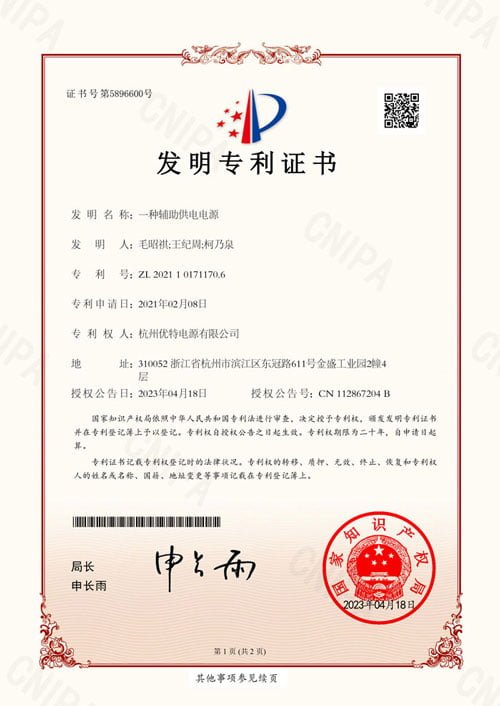 As a leading manufacturer in Chinese LED driver industry, uPowerTek is committed to providing high-quality intelligent LED terminal solutions and high-power LED drivers for global customers. The company places product quality and reliability as its top priority and has gained extensive customer trust through continuous technological innovation and product upgrades.
The LED driver patent awarded to uPowerTek involves an auxiliary power supply system that can effectively improve the power efficiency and reliability of LED lighting equipment while reducing power consumption and costs. This patent achievement not only brings new technical advantages to the company but also further enhances the brand's reputation and market competitiveness.
In the future, uPowerTek will continue to strengthen technological innovation and product upgrades to provide better products and services to users. The company will continuously explore innovation potential, enhance its core competitiveness, and create more value for customers.
The LED driver invention patent certificate obtained by uPowerTek is not only a significant achievement in corporate technological innovation but also a remarkable progress in China's LED driver industry's technological innovation. It is believed that in the future, uPowerTek will achieve more outstanding accomplishments and contribute to the prosperity and development of the industry.