Introduction
Street lighting is essential on highways, urban and rural roads, car parks, and other public spaces. In addition, these electrical fixtures help to provide illumination and enhance security in outdoor areas.
However, we only enjoy these benefits using good quality items, like light-emitting diode (LED) technology products. And who makes them? Top-notch street light manufacturers.
List of Top 10 Street Lighting Manufacturers in China
China is the largest manufacturer and exporter of lighting worldwide. Its well-known light fairs and markets appeal to businesses from all over the globe.
Our list compiles the top China-based street light manufacturing companies for your benefit. We recommend these ten brands as the best to patronize when acquiring street lighting.
CECEP Lattice Lighting
SNC Opto Electronic
HPWINNER Opto Corporation
AGC Lighting
Lepower Opto Eletronics
Zopoise Technology
Unilumin Lighting
AOK Lights
Kingsun Lights
NVC Lighting
This guide will look closely at these top-notch brands in the street lighting industry. And as a bonus, you will find a tip about a critical LED street light component, the LED driver.
Top 10 Street Light Manufacturers in China
#1. CECEP Lattice Lighting
Headquarters
Nanchang City, Jiangxi Province, China.

Profile
CECEP Lattice lighting is, by its largest shareholder, a subsidiary of the CECEP. As a state-owned enterprise, it is responsible for carrying out major lighting projects in China and abroad.
The Lattice Lighting was founded in 2009 and came under CECEP in 2012. Its first project was a case of using the first generation of modularized LED street lights.
Since then, the company has successfully developed semiconductor lighting products and constructed smart cities.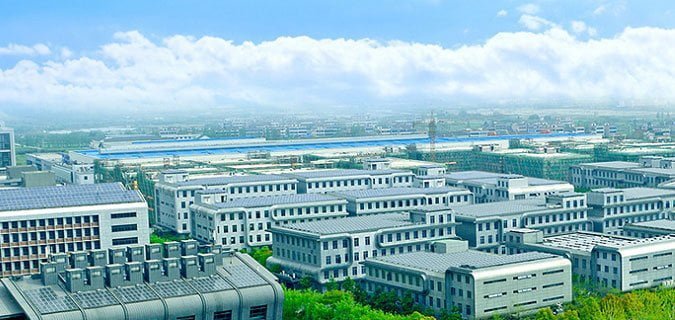 Facility Information
CECEP Lattice Technology factory has a production space of 70,000 square meters of land.
As a result, the factory employs over 340 skilled workers. Also, a resident team of experts continually undertakes domestic scientific research projects at its registered postdoctoral research station.
Product Description
CECEP Lattice Lighting offers street lights in two variations;
LED street lights, such as the RM, RK, and RQ LED Street Light Series.
Solar-powered LED street lights like the X4, AE, and Freedom solar LED street lights.
Reason for Recommendation
CECEP Lattice Lighting provides lighting solutions that save energy and offers intelligent control.
#2. SNC Opto Electronic
Headquarters
Shenzhen, China.

Profile
SNC Opto Electronic lighting company is a professional business specializing in conceptualizing, producing, and selling LED lighting.
Since its inception in 2007, SNC has transformed from a minor startup firm to become a significant player in the LED lighting industry.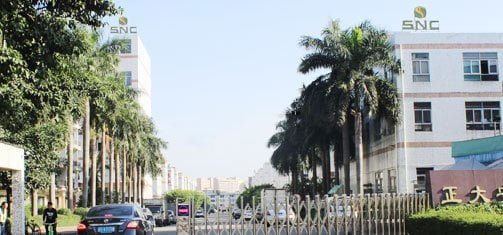 Facility Information
SNC Opto Electronic company owns and operates a manufacturing facility covering 215,000 square feet of land area.
With ISO 9001:2008 certification, this production center integrates fully equipped, innovative technologies with experienced human personnel to deliver competitive products.
Product Description
Product pictures on Facebook
Products page on the company website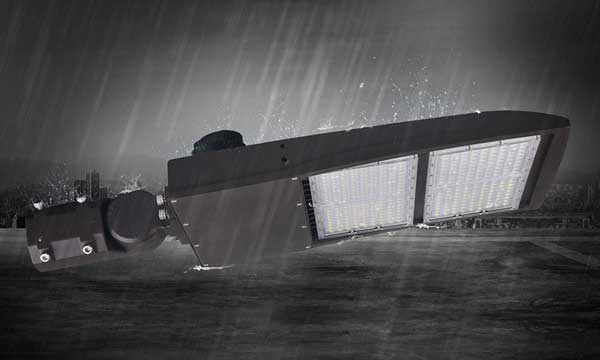 Reason for Recommendation
Intelligent lighting and smart control are hallmarks of SNC Opto Electronic lighting products. In addition, their attention to product quality and industry standards ensures you are buying top-of-the-line items.
#3. HPWINNER Opto Corporation
Headquarters
Hangzhou, China.

Profile
Since its establishment in July 2011, HPWINNER has continued to set new standards in outdoor lighting. In 2014, the company gained recognition as a China National High-tech Enterprise.
An over 100 member-strong research and development (R&D) team has experience in optics, industrial design, electrical engineering, and other relevant disciplines.
As a result, the company owns 675 patents, including 51 inventions.
Nowadays, a collection of industrial clusters enable the manufacturing base to provide high-efficiency industrial services.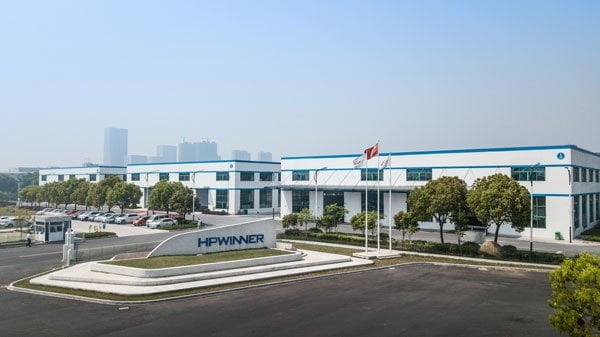 Facility Information
HPWINNER has its headquarters in Hangzhou. In addition, the company has had a manufacturing base in Zhejiang Province operating since 2018.
The base contains five buildings carrying out molding, die casting, precision machining, powder coating, and assembly operations.
After completion, HPWINNER expects its production base to cover 333,300 square meters of land. With a proposed building area of around 400,000 square meters, the company plans to output 10 million products annually.
Product Description
HPWINNER has a wide-ranging catalog of first-rate street lights. The T65, T67, T68, T29, T85, T19, T1M, T1Q, and T2Q Series are visible below.
You can find a full of their available products here.
Reason for Recommendation
HPWINNER is a pacesetter in the street light manufacturing industry. Especially in discovering new industrial procedures and making creative models.
#4. AGC Lighting
Headquarters
Shenzhen City, China.

Profile
AGC is well-equipped for R&D, production, sales, and technical support as a market leader in outdoor lighting.
AGC is highly capable of engineering technology and has human personnel with plenty of working experience.
AGC annual reports show a steady increase of 23 percent over the last ten years.
Being customer-centric, innovative, collaborative, confident, and continuously improving are some of the company's virtues.
Youtube video.
Facility Information
AGC factory covers 15,000 square meters wide with an employee base of over 450. The production output of street lights reaches up to 200 pieces daily.
Product Description
AGC offers LED street lights as alternatives to traditional outdoor lighting. Their products come with high performance and value for money. These products include:
Eco Smooth LED Street Light, with an elegant design that prevents accumulation of debris, snow, and other materials,
PT01 Post Top Light that comes in a compact design and guarantees visual comfort, and
ST46 Roadway Light is a cost-effective option made with heat-dissipating plastic material.
You check a complete list of AGC street lighting products here.
Reason for Recommendation
Easy installation of light fixtures, uniform light distribution, and reasonable cost is why you should consider AGC products.
#5. Lepower Opto Electronics
Headquarters
Shenzhen, China.
Profile
LEPOWER has 13 years of experience in manufacturing high-power LED lighting.
This National High-tech Enterprise awardee commenced operations in 2008. By 2010, the first patent Lepower light source became available.
Currently, the company operates out of Ningbo, Hangzhou, Yangzhou, Zhongshan, and Foshan.
The company has carried out projects in China and the United Kingdom, Slovakia, and Australia.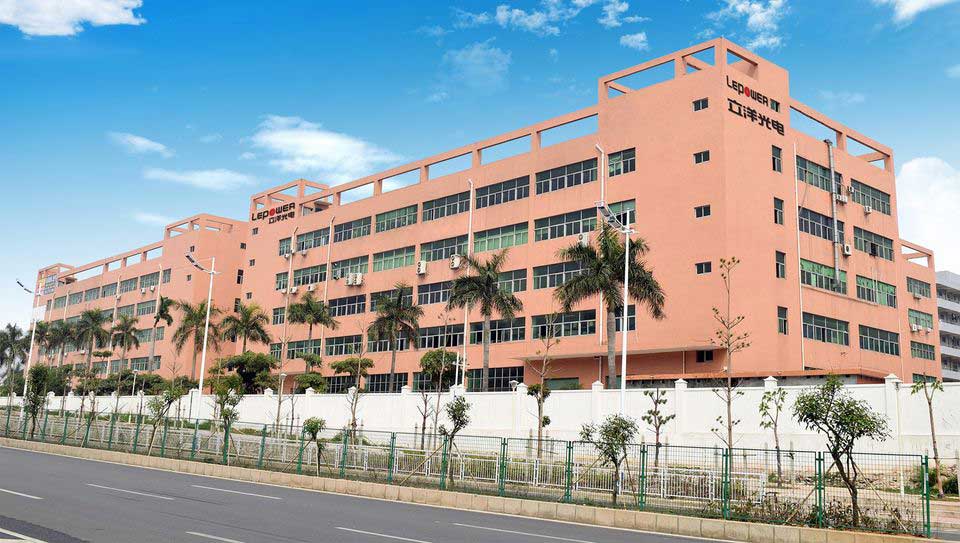 Facility Information
The Lepower workshop is 16,000 square meters wide, equipped with a fully automated assembly line. Some of the company's professional equipment are the X-ray void rate monitor, lighting distribution photometer, and the integrating sphere.
Welding, chip bonding, product testing, and dust-free packaging are some of the factory's operations.
Product Description
LEPOWER street lights are available in the following product series:
XH01
L03
L12
L12-B
L13
L16
L18
L26
L29
L60
The XH01 street lights offer stable performance and uniform lighting distribution.
The L03, L13, and L26 street lights are vibration resistant and are available for dimming and intelligent lighting customization.
Reason for Recommendation
LEPOWER offers innovative LED green lighting in unique, cost-saving designs. The brand also provides adequate technical after-sales service and dedicated online customer care.
#6. Zopoise Technology
Headquarters
Zhuzhou, China.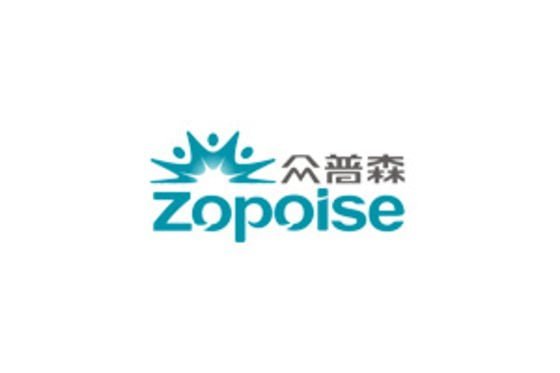 Profile
Zopoise Technology was established in 2014.
Company-owned subsidiaries include Zhuzhou Zopoise Technology Company (launched June 2017) and Zhuzhou Li-zo Precision Company (acquired March 2018). Other affiliates have been set up in Shanghai and Shenzhen.
Well-equipped R&D teams are active in the elementary, application, product research, and continuous improvement of manufactured goods.
Accordingly, Zopoise holds more than 680 inventions, utility models, and international patents. Each year, the enterprise files for a further 200 product patents.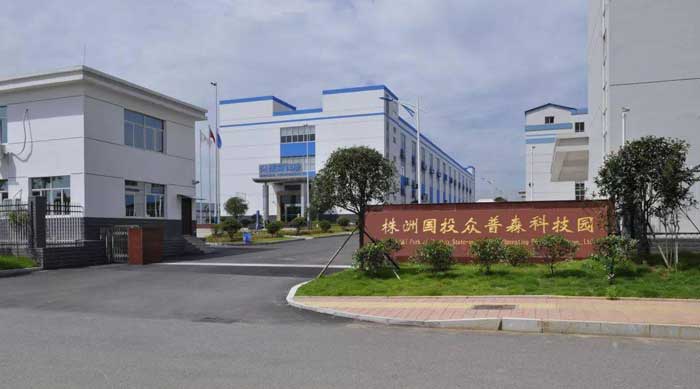 Facility Information
Zopoise Technology Industrial Park is the location of the company headquarters. The total building area is estimated to be over 110,000 square meters.
A vertically integrated production center includes raw materials, luminaires, die-casting, control, and lamp assembly lines.
The addition of automatic intelligent robots and online monitoring contribute to the company's efficient manufacturing processes.
Also, the company factory has fully automated, semi-automatic, and lean production lines.
In addition, Zopoise Technology operates a large-scale standard LED lighting laboratory. This facility is well-equipped to carry out electromagnetic, light radiation, optical, reliability, and safety compliance testing.
Product Description
Trademark products from Zopoise Technology include:
ZD446 Street Light: with a hollow heat sink that enables omnidirectional and excellent heat dissipation,
ZD462 Street Light: that supports tool-free maintenance and flexible installation angle,
ZD663 Street Light: a product that avoids debris build-up due to its smooth casing design. It also has photocell and smart controls.
Reason for Recommendation
Essentially, Zopoise products offer efficient, reliable heat dissipation properties at much lower material and assembly costs.
#7. Unilumin Lighting
Headquarters
Fuyong, Pingshan, and Daya Bay.

Profile
First up on our list of excellent street light producers is Unilumin Lighting. This enterprise is a subsidiary of the Unilumin Group.
The Unilumin Group was established in 2004 and listed on the China Stock Exchange in 2011. Their key areas of influence are in lighting and smart pole production using light-emitting diode (LED) technology.
As of 2019, Unilumin is the largest LED street light manufacturer and exporter in China.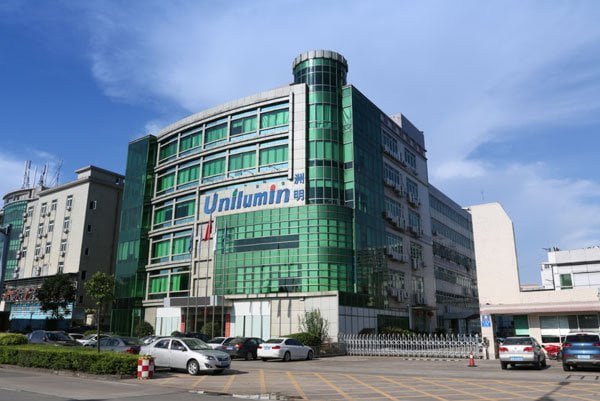 Facility Information
Known as the "Iron Triangle," Unilumin's Fuyong headquarters takes up to 400,000 square meters and houses superb research and development (R&D) equipment.
It also has intelligent manufacturing centers in Pingshan and Daya Bay.
The company estimates the soon-to-be-built Daya Bay science park to become the world's most extensive manufacturing base for LED products.
Product Description
When discussing street lights, Unilumin offers a variety of trademark products. These include;
RURALITE
TUNA
SHARKLITE
ECONPLUS
ECOFLEX
NOVA
GUPPY
LEDOLPHIN
SHARK
NANO
OSTAR
ECO
I-LUX V2
Reason for Recommendation
Unilumin offers high-quality, and high-performance LED street lighting solutions. Filing and owning more than 1,000 patents worldwide shows their commitment to innovation, research, and development.
#8. AOK Lights
Headquarters
Shenzhen, and Fuzhou, China.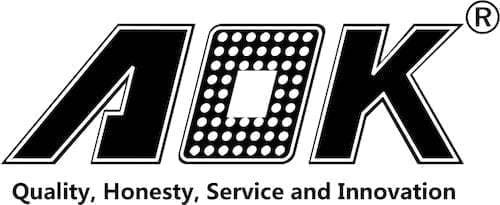 Profile
AOK specializes in outdoor, industrial, high-temperature, solar-powered, and intelligent lighting systems.
Since 2012, AOK has continued to improve its product development process and efficiency using its experienced engineering and R&D teams.
Presently, AOK is a member of the Australia Lighting Council and has locations in the USA, Germany, and France.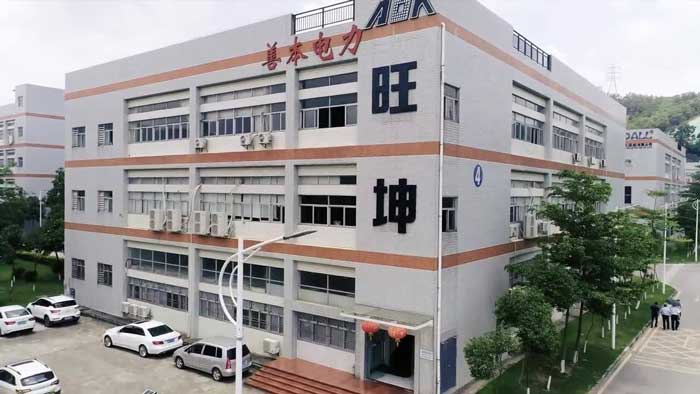 Facility Information
AOK's factory began operation in 2012. As of 2016, it covers a land area of 8,000 square meters. In addition, AOK has a die-casting factory.
The AOK factory manufactures light units of ISO9001:2008 and ISO14001 standards with its in-house manufacturing team. By estimation, the factory produces a capacity of between 500,000 to 1,000,000 units per annum.
Product Description
AOK outdoor LED lights come in the following popular product series;
IK series,
IL series,
IL02 series,
IL03 series, and
SLF series.
Reason for Recommendation
Quality products and direct business experience make AOK a practical choice for street lighting solutions. Also, you get to use street lights with fewer maintenance costs.
#9. Kingsun Lights
Headquarters
Guangdong Province.
Profile
Kingsun Optoelectronic Company is another National High-Tech enterprise on this list. Historically, Kingsun is the first publicly listed company in the global high-power LED lighting business.
In production, Kingsun focuses primarily on environmentally friendly designs. Meaning they produce high stability and long-lasting products.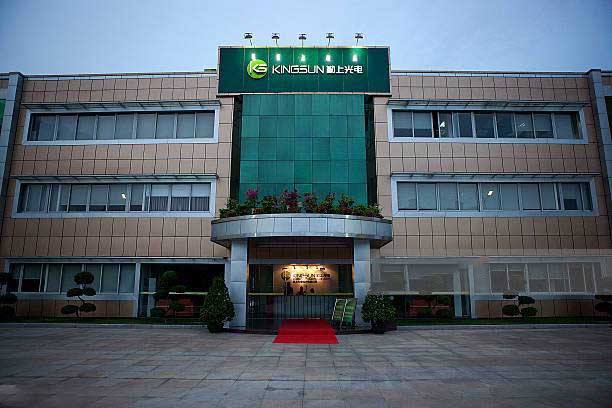 Facility Information
Kingsun owns a top-notch production ground in Guangdong Province. Its renowned laboratory is certified by the China National Accreditation Service for Conformity Assessment (CNAS), responsible for upholding national science standards.
An existing postdoctoral research workshop develops outdoor and indoor, and intelligent lighting solutions.
Product Description
Kingsun outright owns more than 200 patents relating to LED light applications.
Popular street lighting solutions they offer include:
Agola Series
Apollo Series
Pallas Series
Other lighting products available are the Latona and Mini 1 street lights.

Reason for Recommendation
As an expert in green illumination, Kingsun street lights are high-quality yet energy-saving and non-polluting. With their innovative products, Kingsun ensures you commit towards low-carbon emission.
#10. NVC Lighting
Headquarters
Zhuhai City, Guangdong Province.
Profile
NVC Lighting was founded in 1998. For more than two decades, the company has provided healthier and more innovative lighting solutions across various application needs.
NVC Lighting has been a partner of the Olympic Council of Asia, the Beijing Olympic Games, Shanghai World Expo, Hangzhou G20 Summit, Beijing Daxing International Airport, Beijing World Horticultural Expo, and other prominent projects.
Now a part of the NVC International brand, NVC Lighting continues to develop as a significant lighting business in China.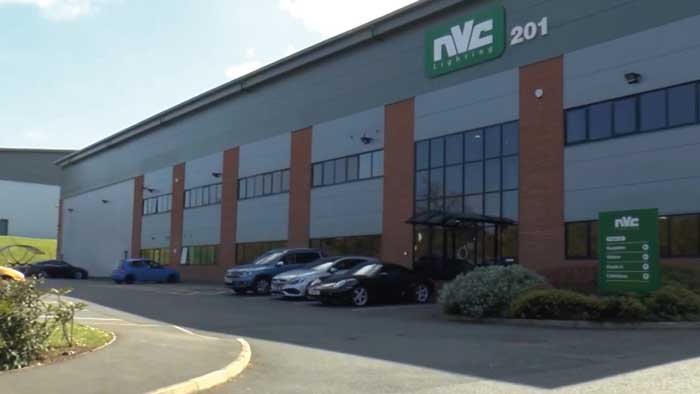 Facility Information
NVC Lighting operates four manufacturing bases in Huizhou (Guangdong), Zhongshan (Guangdong), Wanzhou (Chongqing), and Bengbu (Anhui).
It has a nationally recognized laboratory and R&D center that meets international standards.
Also, the company controls 34 operation centers and more than 2,300 terminal stores scattered throughout the nation.
NVC Lighting also incorporates e-commerce channels such as Tmall and Jingdong Mall. These facilities contribute to the company's seamless lighting product marketing structure.
Product Description
NVC Lighting offers a wide range of outdoor lighting products.
Reason for Recommendation
NVC Lighting provides safe, thoughtful, and high-quality products for your outdoor lighting needs.
LED Drivers: An Essential Component
LED drivers are specialized devices that are important in powering the LED street light.
LED drivers are responsible for intelligent lighting control and providing surge protection. Also, a street light's excellent performance and long lifespan points to a good quality LED driver.
As these unique devices prevent overheating bulbs and manage voltage fluctuations, you should opt for the first-class uPowerTek brand when buying LED drivers.
uPowerTek is an Original Equipment Manufacturer (OEM) and Original Device Manufacturer (ODM). These designations mean you get private labelling options for your business brand and custom solutions according to your project needs.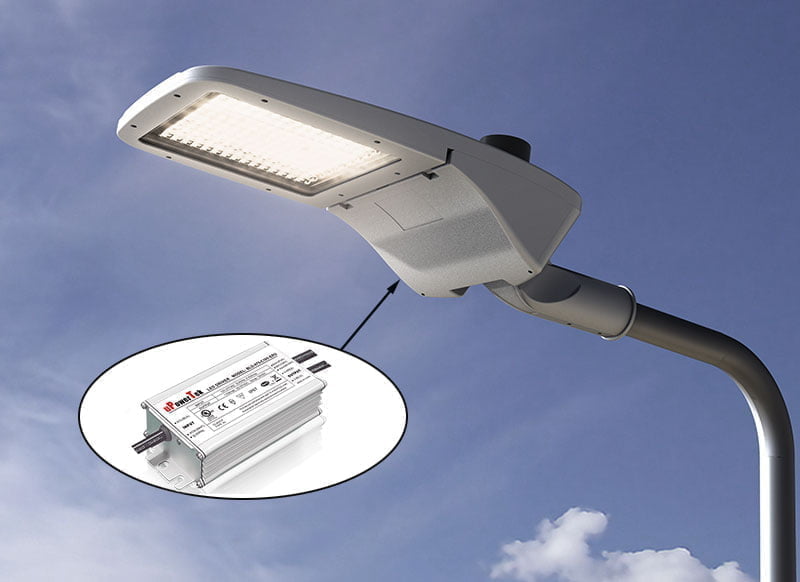 Conclusion
Selecting the precise street light to meet your lighting requirements is essential—especially first-rate and state-of-the-art designs.
For your high-power lighting, innovation, or aesthetic design requirements, these top 10 brands have them all.
And if you need to pick out drivers for LED street lights, uPowerTek assures value.
Let us know your thoughts or requirements