On August 3-6, 2021, the "26th Guangzhou International Lighting Exhibition", which was postponed for 2 months, was successfully held at the China Import and Export Fair Complex in Guangzhou. Though affected by the recent epidemic, some of the affected customers were unable to participate in the exhibition, the booth of uPowerTek was still crowded, attracting customers from all over the country to visit and purchase.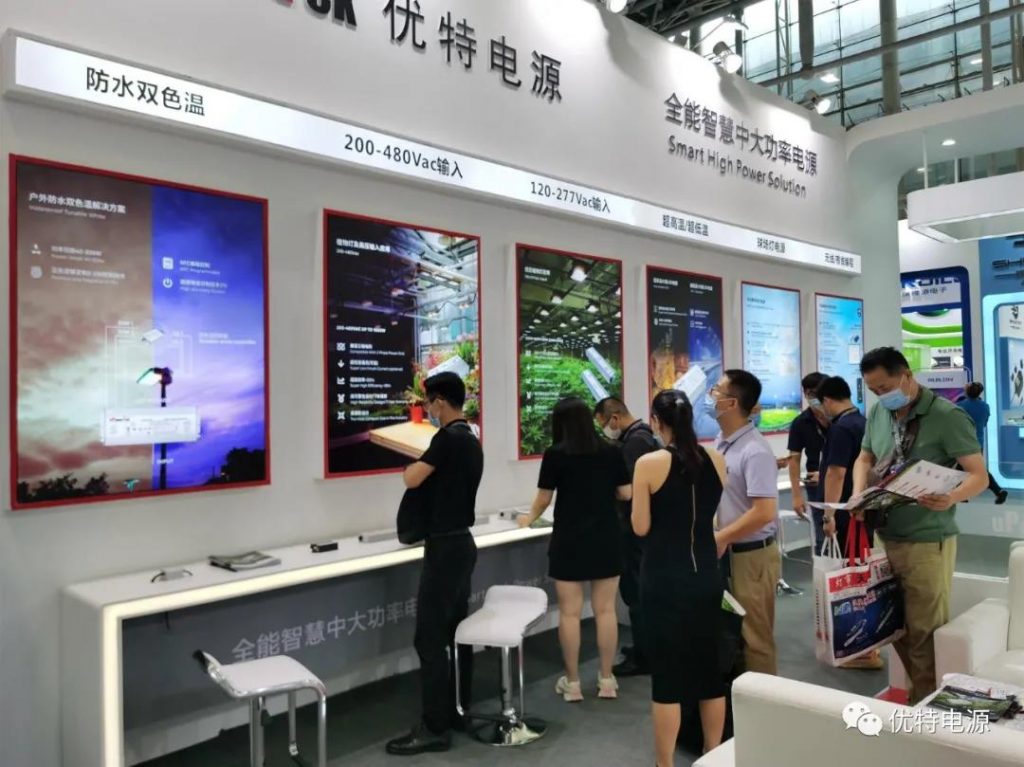 Guangzhou International Lighting Exhibition (GILE) is a world-class high-level exhibition organized by the world's best and most comprehensive lighting production and trading companies, professional visitors and related institutions. It is the largest lighting and LED exhibition in Asia.
uPowerTek exhibited the latest grow lighting solutions, such as 320W to 800W high-power grow lighting integrated power supply, multi-channel control grow lighting wireless controller and so on. In addition, uPowerTek also exhibited a highly competitive high-power stadium light power supply and a series of ultra-high temperature and ultra-low temperature power supplies.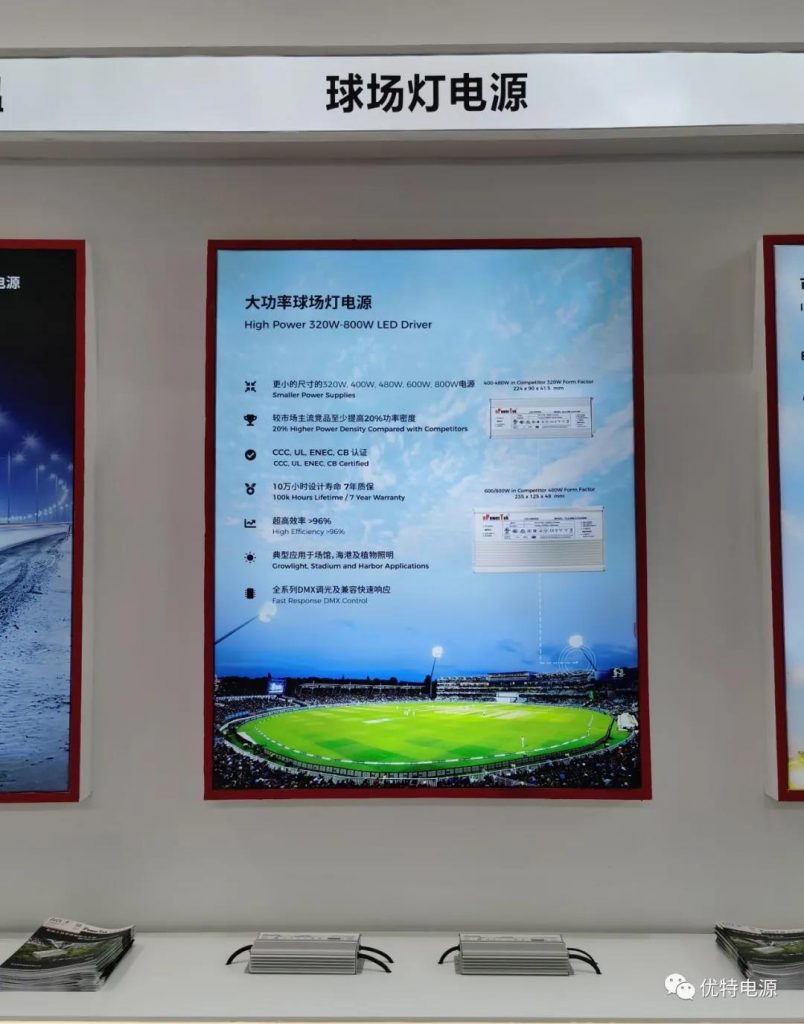 One of the hotspots of this year's exhibition is horticultural lighting. Of course, uPowerTek is also well prepared and launched an integrated grow lighting LED driver that meets market demand. This series of LED drivers are compact in size, integrate the commonly used waterproof connectors in the input and output ends, and support knob dimming and RJ12 terminals, which greatly simplifies the design and installation steps of grow lights, and reduces material costs.
uPowerTek's grow light power supply not only supports the commonly used 120-277Vac input voltage, but also supports a wider 200-480Vac input voltage, adapting to the power grids of different countries and regions. The size of the 800W driver of uPowerTek is only 235x125x43mm, which is the same size as the 480W from our competitors on the market, but the efficiency is as high as 96%. Another major feature of this series of products is the ultra-low in-rush current. Under 220Vac input voltage, the in-rush current is only about 7A, which reduces the number of circuit breakers used during grow lighting factory construction and saves costs.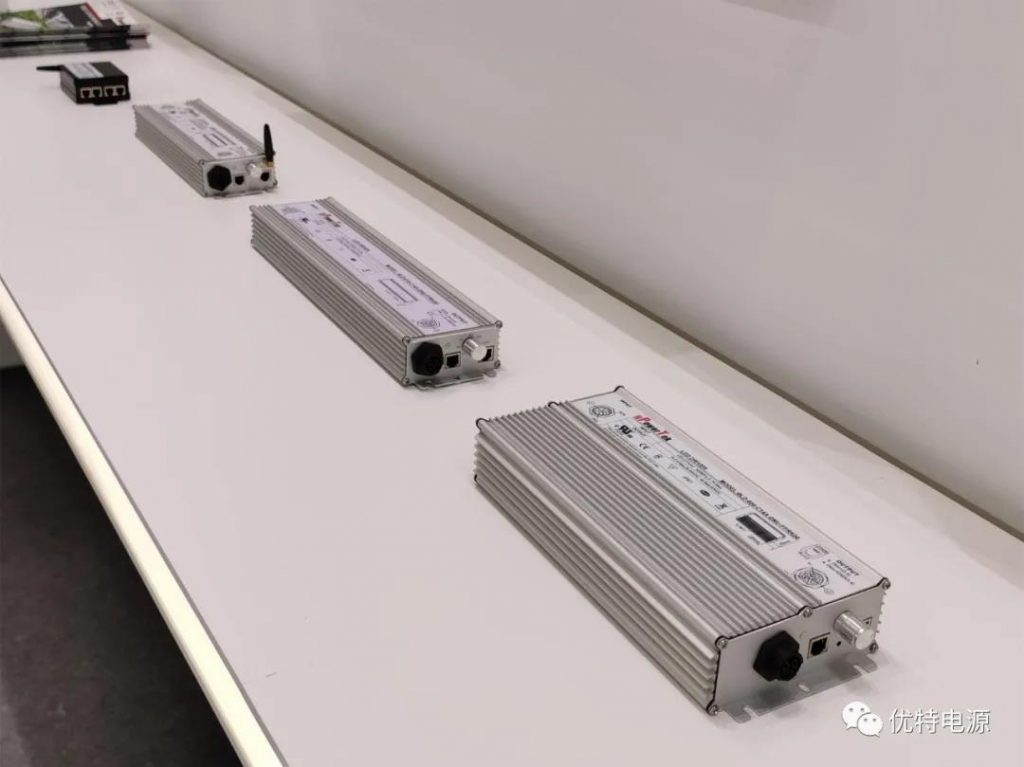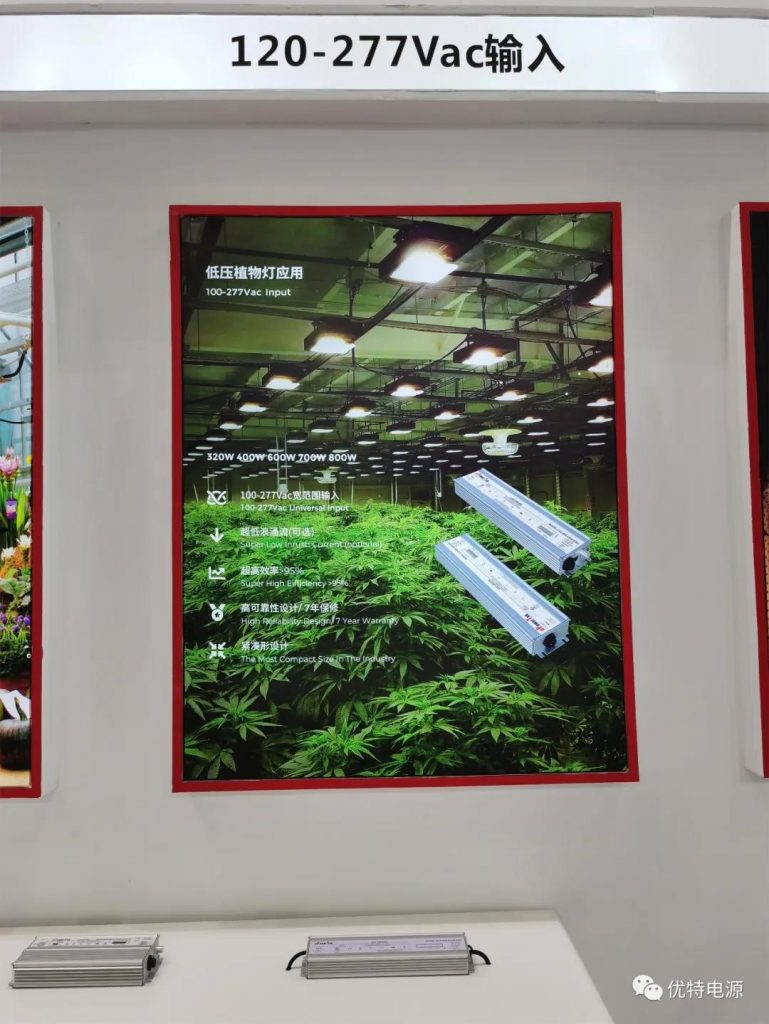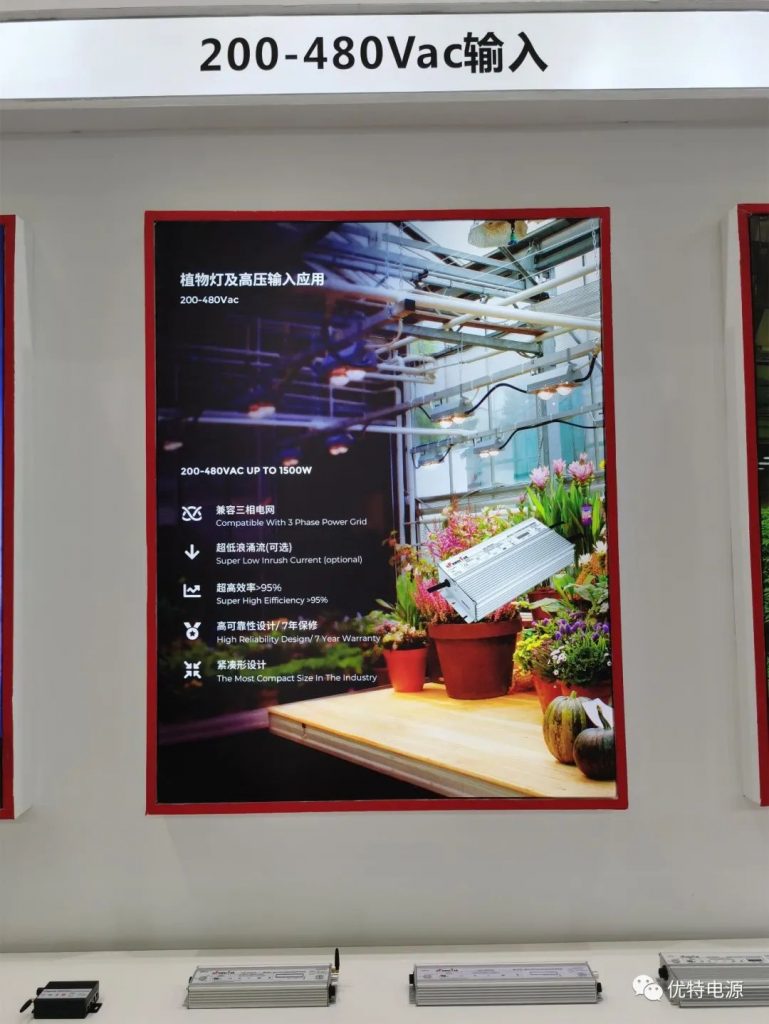 uPowerTek also exhibited tunable white solutions for tunnel lighting that attracted countless eyes, attracting people in the outdoor lighting industry to stop and watch. The tunable white power supply system has two outputs to drive LED lamps, and two 0-10V signals to control the brightness and color temperature of the lamps.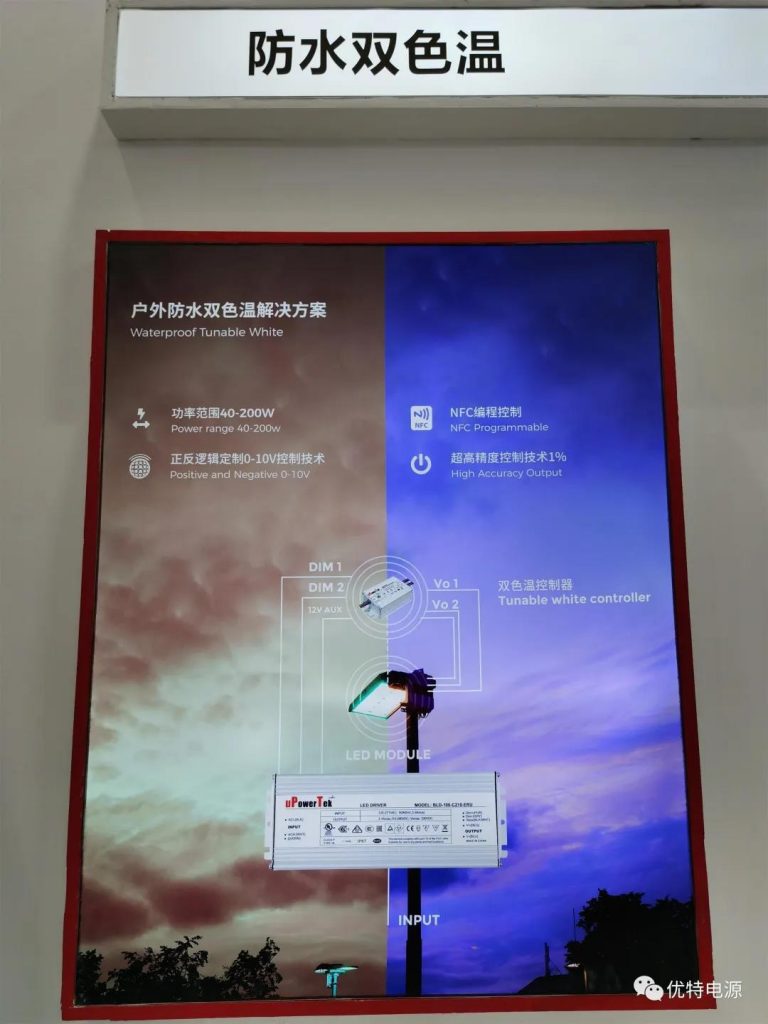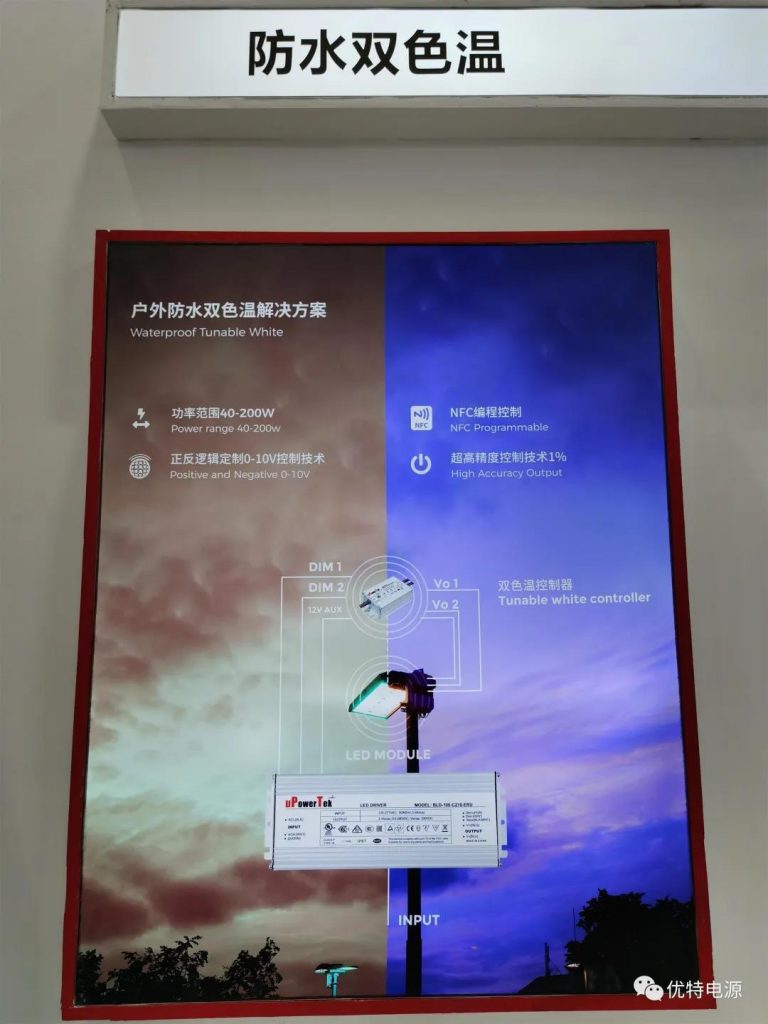 In terms of intelligent wireless control, uPowerTek brought two wireless control solutions for grow lighting. Solution one is an intelligent wireless controller, which integrates Tuya wireless control module and outputs 4 channels of 0-10V or PWM signals. Users can control the brightness through mobile phones or computers. The second solution is a new product for consumer grow light applications. The 300-800W compact constant current LED driver based on Tuya wireless control module adopts the latest control APP and SaaS series dedicated to grow lights. This series of products supports Zigbee, Bluetooth and other wireless intelligent MESH networking, and is also compatible with manual knob dimming and wired dimming.
Founded in 2016, uPowerTek is a Sino-US joint venture state-level high-tech enterprise. The company's core team is a group of senior engineers who have been deeply involved in the lighting and switching power supply industry for many years. Through continuous research and development, more than 50 patents and intellectual property rights have been accumulated in just a few years. The company was awarded the Hangzhou Eagle Business Plan in 2017 and became a member of the DiiA Association in 2019. uPowerTek is committed to providing sales services and technical support to customers around the world through the development and production of high-quality intelligent LED terminal solutions and high-power LED drivers.
Booth number: 4.2 C28
Error: Contact form not found.