uPowerTek today announced a new product series for poultry lighting with UL, ENEC, CB and RCM certified. The high efficiency and the great thermal management design make the product suitable for high ambient temperature and humidity usage.
Poultry lighting is different from ordinary industrial lighting. The physiological characteristics of poultry should be fully considered. The growth of poultry is greatly affected by the intensity, time and spectrum of light. Poultry is very sensitive to light, LED drivers with PWM output are not suitable for this application. And the LED poultry lights are designed with constant current type so that it could be more flexible for field installation.
There are three models in this new product series, 240W, 320W and 400W. All of them have 48Vdc constant voltage output. They have great dimming performance down to 0.1% without any flicker, because the LED drivers dim by adjusting output voltage rather than adjusting output current or PWM output, so the min. dimming level can be very low.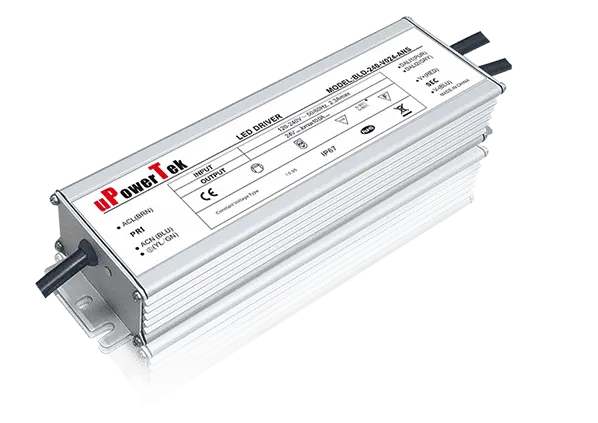 Poultry lighting LED driver features
Supply Voltage: 90-305Vac or 127-420Vdc, 380Vac for 2 hours
Great Surge Immunity 10kV
-55℃Cold Ambient Startup (Optional)
100,000Hour Life @ Tc=75℃
7 Year Warranty @ Tc<=75℃
Isolated 0-10V Dimmable
Flicker-Free Dimming by Output Voltage Adjustment
UL Class P, ENEC/CB/CCC/RCM SELV Output
Safety according to EN 61347-1, 61347-2-3, 61347-2-13, 62384
Poultry Lighting LED driver model list
Model Number
Input
Voltage
Range
Output
Power
Maximum
Output
Voltage
Programmability
Dimming
Certification
BLD-400-V048-DNZ
90 ~ 305Vac
400 W
48.5Vdc
–
0-10V
Continous
UL/FCC/CB/ENEC/CCC/RCM
BLD-320-V048-DNZ
90 ~ 305Vac
320 W
48.5Vdc
–
0-10V
Continous
UL/FCC/CB/ENEC/CCC/RCM
BLD-240-V048-DNZ
90 ~ 305Vac
250 W
48.5Vdc
–
0-10V
Continous
UL/FCC/CB/ENEC/CCC/RCM
Send us a message