Upowertek
As population in urban areas across the world continues to grow, it is estimated that by 2050, 68 percent of the world population will live in cities. This demographic shift will lead to increased demand for food within cities, adding strain to the agricultural and food systems, particularly in developing countries.

Urban agriculture, or urban farming, has long been viewed as an innovative component in diversifying the food system. A 2018 study of urban agriculture's global potential found that fully implemented urban farms around the world could produce as much as 180 million metric tons of food per year, upwards of 10 percent of the global output of legumes, roots and tubers and vegetable crops. And that doesn't account for the beneficial byproducts like energy savings, reduced waste and others. Urban farming is rapidly becoming an integral piece of the US agricultural system and is attracting investment to pour into related development and researches. One area of investment, both private and public, is vertical farming.

Vertical farming offers innovative solutions to meet the growing demand for fresh produce. The potential of vertical farming is the ability to grow crops, primarily leafy greens, vertically in small indoor areas, with reduced water use and in environments that are carefully controlled.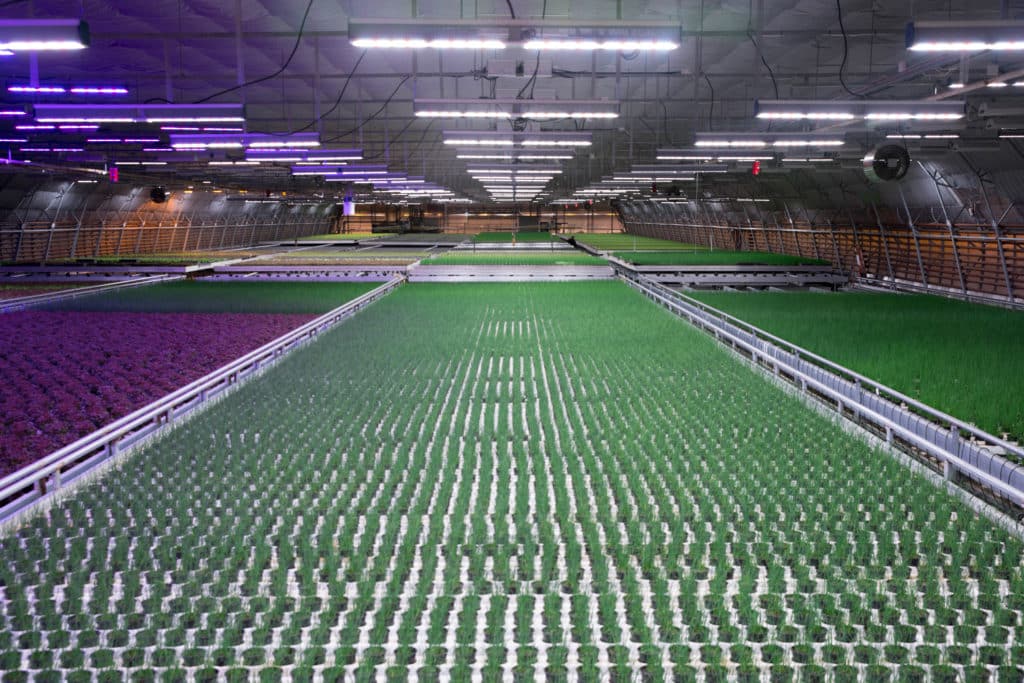 Lighting technology plays a crucial role in the advancement of vertical farming, and there is still progress to be made. Legacy lighting technologies like high pressure sodium lamps were ill-suited for vertical farming from both a form factor perspective as well as radiated heat, while fluorescent tubes faced obstacles in delivering the lighting efficiency necessary for plant cultivation. In addition, the dependence of fluorescent tubes on mercury poses a very real danger to both crops and operators. These considerations led to the emergence of LEDs as the preferred lighting solution for vertical farms. In addition to having a compact form factor, LEDs offer a higher level of control over the nature of light itself, meaning operators have access to different light treatments for their crops to maximize quality and yield, and to influence flavor and nutritional value. Today, lighting can account for up to 30 percent of cost to set up a vertical farm and anywhere from 25 percent to 30 percent of the operational costs, meaning there is still significant opportunity for improvement.
As LED efficiency improves, cost decreases continue and "light recipes" – the unique combination of spectrum, intensity and light duration – contribute to increasing automation, lighting technology is helping accelerate urban and vertical farming, bringing fresh produce closer to consumers, and warranting the excitement and interest in both the public and private sectors.
Addressing the challenges of an urban future will be challenging, however, with the knowledge gleaned from extensive research, acknowledgement at the highest levels of government and continued investment in innovative solutions that improve both society and the bottom line, urban and vertical farming are poised to play an integral role in the agricultural system. With continued advancements in urban farming and the technologies powering it, it is not unthinkable to see sprouts consistently popping up in cities to bring fresh, nutritious food to people across the country and the globe.
(Author: Rodrigo Pereyra, Business Field Manager Urban Digital Farming, OSRAM; LEDinside edited)
From: https://search.ledinside.com/